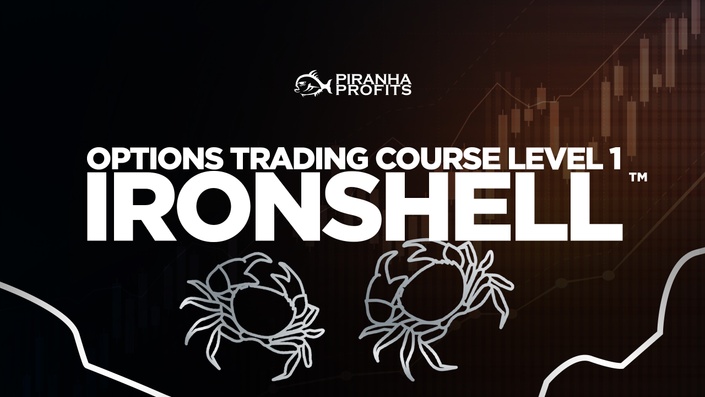 Options Trading Course Level 1: Options IronShell™
Learn How to Earn 20 - 30% Extra Income by Collecting Option Premiums off Your Stock Portfolio All Year Round
Watch Promo
Course Overview
The Piranha Profits™ Options Trading Course is created for traders who want to generate more income from their trading account without being tied down by unpredictable market weather.
Like the impenetrable shell of a king crab, Options Ironshell™ gives you iron-clad strategies to protect your positions and insure yourself against draw-downs. It is especially powerful for stock investors who want to defend their portfolio against short-term "bear attacks", while making extra profits during dry seasons.
In this comprehensive course, you'll walk through the ABCs of Options trading like "What are Greeks", "What are calls and puts", before diving into 5 profitable Options strategies that you can apply in various market scenarios.


While other traders sit and wait for the trend to turn in their favour, you could have made an extra 20 to 30% a year just by collecting Option premiums… regardless of market direction!
8 Powerful Strategies You'll Learn in Options Ironshell™
Strategies #1 Strategies #1 & #2: Long Calls and Long Puts
Learn the exact steps to executing long calls and puts to generate profits when the market is very bullish or bearish.

Strategy #3: Long Calls and Long Puts
Learn how to generate an extra 20 – 30% income a year on your investment portfolio just by collecting Option premiums… even during sideways or slow seasons!

Strategy #4: Hedging with Protective Puts
Learn how to buy "insurance" to protect your long-term stock portfolio from short-term bear attacks and cover your losses.

Strategy #5: Selling Cash-Secured Puts
Learn how legendary investors like Warren Buffett buy their favorite stocks at massive discounts and how you can end up owning stocks for FREE.

Strategies #6 & #7: Buying Vertical Spreads
Learn a cheap method to squeeze profits from bullish and bearish stocks with pre-defined win-rate and limited risk!

Strategy #8: The Cash Flow Wheel
Learn how to Combine Selling a Cash Secured Put & Then Selling a Covered Call to Generate Consistent Cash Flow!
Read the Rave Reviews from Real-Life Trader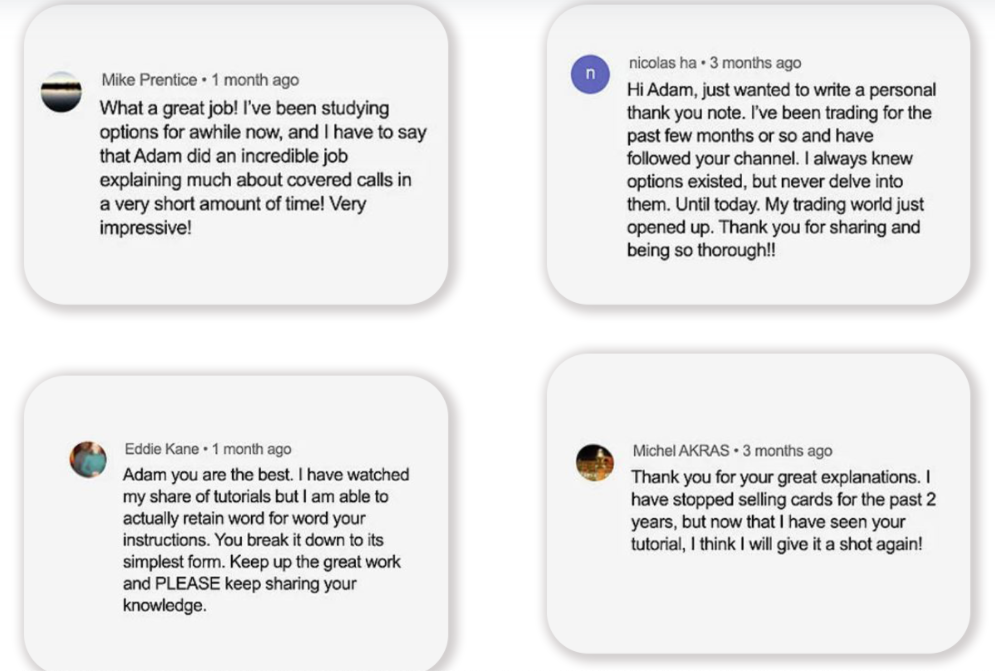 More Reasons to Love Our Options Trading Course


Course Curriculum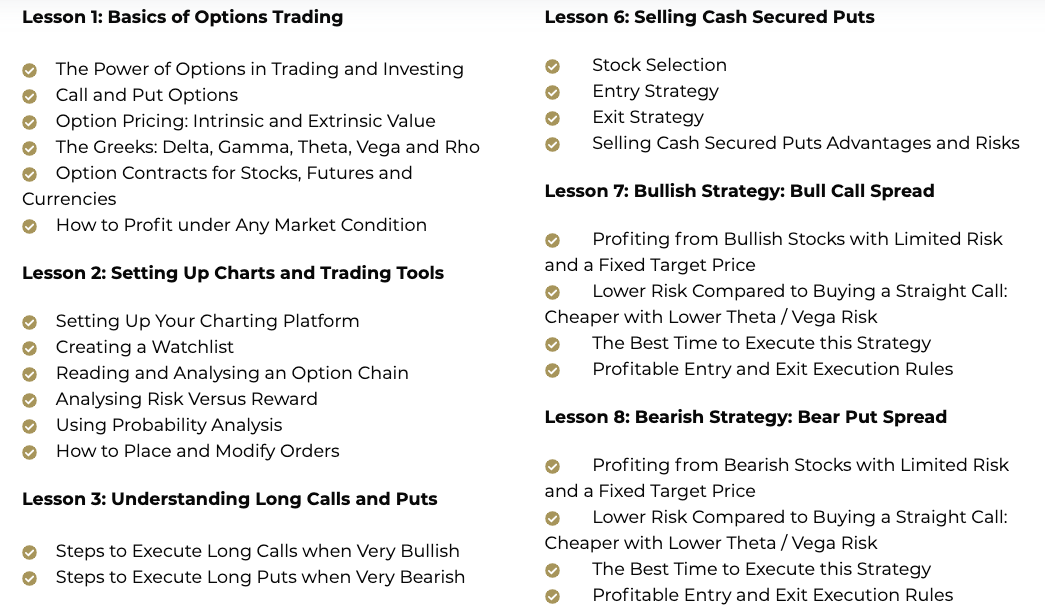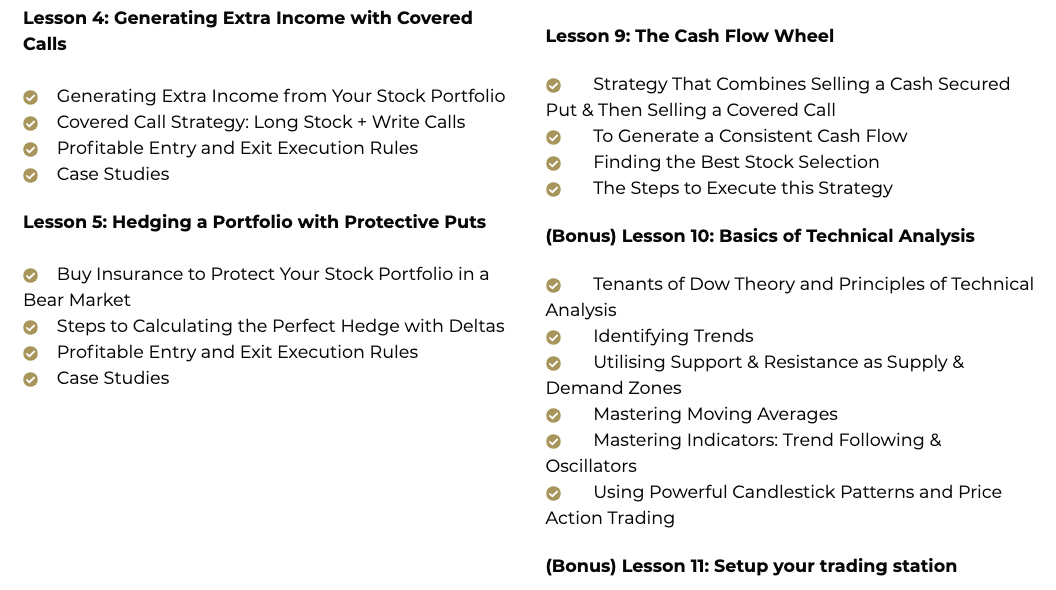 Invest Just Once and Benefit for a Lifetime with the Piranha Profits™ Support System
Lifetime Access
Watch anywhere, anytime, as many times as you want!
11 Complete Lessons, 17+ Hours Minutes of Quality Video Content
Everything you need to know to start profiting
Proprietary Trading Tools (Worth USD 300) — Lifetime Access, No Hidden Fees
Covered Call & Cash Secured Put Scanner + Trade Planner Tracker
*Only works with Microsoft Excel
Dedicated Email Support
Get your questions answered by Adam Khoo, Bang Pham Van and team

Bonus: Options Trading Quick Reference Guide (Worth USD 300)
Your Instructor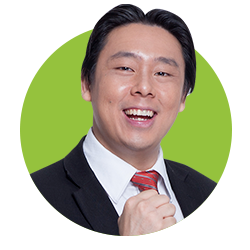 Adam Khoo is a professional Stock, Forex & Options trader, award-winning entrepreneur, best-selling author and peak performance specialist. A self-made millionaire by the age of 26, he is the founder of the Piranha Profits online trading school. He is also the co-founder of one of Singapore's largest training & education companies, with business operations in Malaysia, Indonesia, Vietnam and the Philippines.
As a renowned financial educator, Adam won the Most Preferred Investment Speaker award in 2016 and 2017, voted by thousands of retail investors at the ShareInvestor Awards. He also led his company to achieve the ShareInvestor Most Preferred Financial Educator award in 2013, 2014, 2016 and 2017.
Adam is one of the most-watched trading mentors on YouTube, clocking close to 5 million views on his trading tutorials in just 2 years. In 2018, his channel ranked 12 on Feedspot's "Top 100 Trading Youtube Channels for Traders" and is one of the fastest growing trading channels with over 300,000 subscribers now.
Frequently Asked Questions
I have zero investing or trading experience. Is this course suitable for me?
While this course is designed to be as simple as possible, it still requires prior knowledge of investing / trading foundations, such as chart reading, identifying trends (technical analysis) and stock fundamentals. This is to ensure you apply the right strategies at the right time. If you are new to investing / trading, the learning curve will be steeper for you compared to someone who has already been in the markets for months. For starters, we recommend you to go for our Value Momentum Investing Course or Stock Trading Course Level 1.
I find Options to be a difficult topic. Will I still benefit from this course?
We agree that some traders may find Options not so easy to grasp at first. That's why we loaded this course with tons of real-life market case studies, charts, and crystal-clear entry & exit rules. The learning curve varies for different traders; some people can catch it in one sitting, while some people may need to revise the course a few times. The good thing about our course is that you have lifetime access, so you can watch it as many times as you need until you master the strategies.
I am wary about Options Trading. Are your strategies legit?
Our strategies are 100% legit and proven. Each strategy has been personally tested by Adam Khoo and professional Options coach Bang Pham Van to generate solid returns from the market. What you'll learn in this course are real, regular options trading strategies, which are not the same as the infamous "binary options" or "spread betting" that you see on some online ads. You will also learn how to pre-select your win rate and limit your risks so that you do not fall into the danger of wiping out your account.
Are the strategies taught in this course enough to help me start profiting?
Absolutely. This course is packed with 7 powerful and profitable strategies that you can deploy in various market situations, such as bull runs, bear crashes and even dry, sideways patterns.
Can I get any further discount?
The course fee you see on this page is already heavily discounted to make the course affordable for all traders across the world. Once you enrol for our course, you gain lifetime access where you can re-watch the videos as many times as you like at no additional fee. What's more, you can use our proprietary trading tools (worth USD 300) anytime with no subscription fee or hidden costs. This is truly a value-for-money deal you don't want to miss!
Can I pay in instalments?
We apologise that we do not offer an instalment plan now.
Disclaimer
Nothing in the Site and/or Service is to be construed as a solicitation or offer to sell capital markets products or financial advisory services, and is not to be construed as a source for any kind of professional advice (including but not limited to personal financial or investment advice). No consideration is made to your personal financial circumstances. You should always seek the advice of an appropriately qualified professional before making any financial or investment decision.

Past performance is not necessarily indicative of future results. Investment involves a potentially high level of risk, and may not be suitable for all persons. You may potentially lose some or all of your initial investment, or may even lose more than your initial investment. You agree that you are responsible for using your own judgment when making any investment, including but not limited to making yourself aware of and assessing all the risks associated with any investment as well as seeking advice from an independent financial or investment advisor.