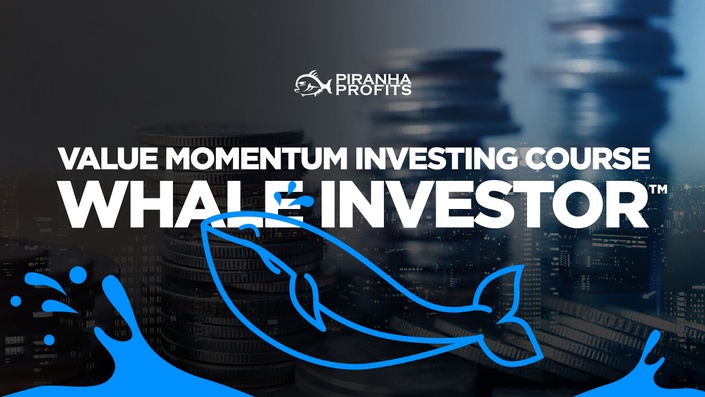 Value Momentum Investing Course: Whale Investor™
Learn How to Pick Winning Stocks and Build a Solid Long-Term Portfolio with Over 10-12% Potential Annual Return
Watch Promo
Enroll in Course

Dear Friend, does this sound like you?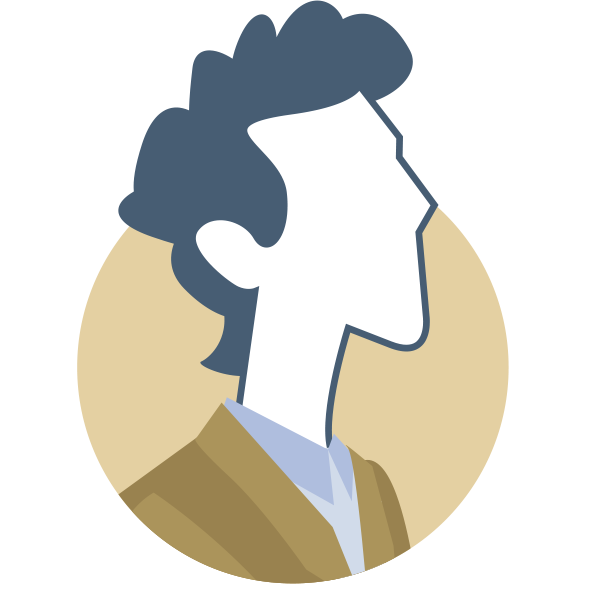 I'm feeling pressured by the rising cost of living. Things are just CRAZILY expensive nowadays! I need more money to give my family a good life.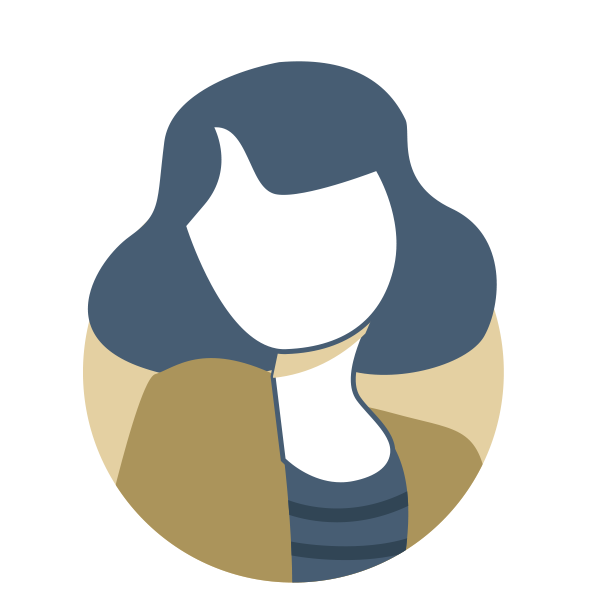 I'm EXHAUSTED at work but I can't afford to quit. I wish I could leave this rat race and
pursue the things I truly love.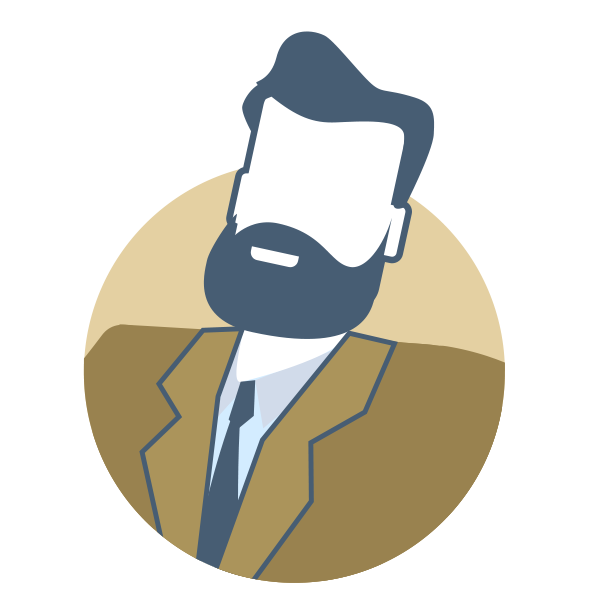 I'm middle-age and starting to worry about my retirement. My savings are average and I don't see myself ever earning enough to cover my expenses when I stop working.


If you've been worrying these, we're sure you know that just slogging at your 9-to-5 job is not going to change things. If you want to accumulate sizeable savings for yourself and your loved ones, you MUST learn the skill to grow your money.

We're not talking about fluffy, get-rich-quick dreams here, but a solid, achievable investing strategy that far outperforms your bank's fixed deposit interest.

Let us show you a powerful way to grow your money by double-digit % every year and ultimately build a million- dollar stock portfolio…
even if you have zero financial background.

INTRODUCING...
Value Momentum Investing™ Course by Adam Khoo


Course Overview
Whale Investor™ helps investors gain the confidence to profit in the stock markets, regardless of their current experience level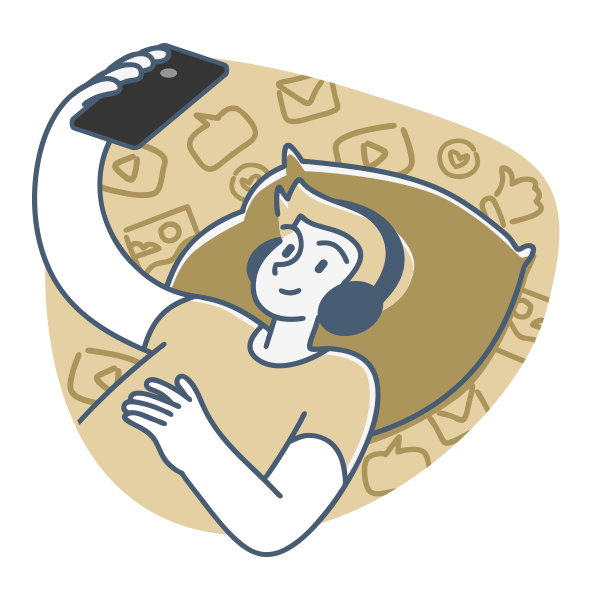 Are you a total newbie? You will learn the ABCs of the stock market with easy explanations AND discover the simplest way to start investing with just 10% of your salary.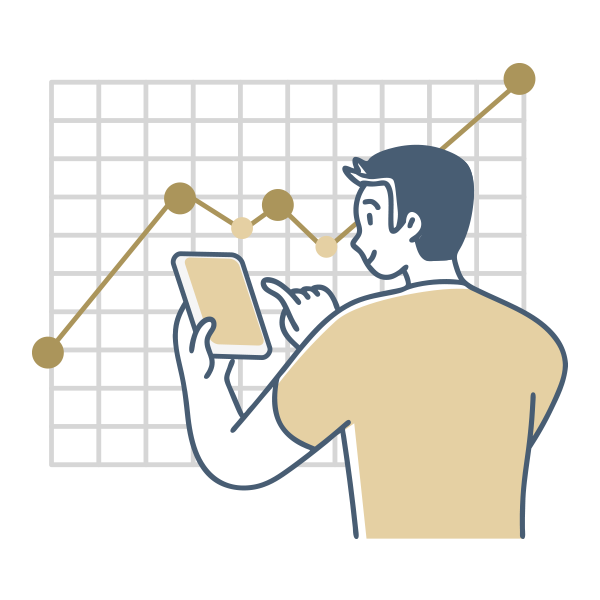 Are you a trader? You'll learn to build a million-dollar portfolio that complements your trading plan… so you'll enjoy BOTH a monthly income and long-term passive profits.
---
No matter where you are in your investing journey right now… millionaire investor Adam Khoo will show you all the essentials you MUST know to become a profitable investor. Using the powerful Value Momentum Investing™ strategy, you will learn to extract profits from any stock market in the world.
Pumped with 18 hours of easy-to-apply video lessons, the Whale Investor™ course is your simplest way to investing success.
That You'll Learn in This Course: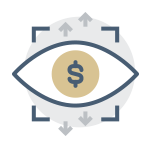 Adam Khoo's exclusive, trademark VMI™ strategy that helps you find the TOP 1% undervalued stocks at the cheapest prices.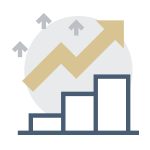 The simple-to-apply 7-step formula for a "90% green" investment portfolio by holding over at least 5 years.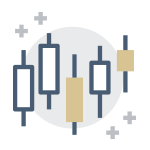 The exact BEST time to enter and exit each stock so you secure more profits than the typical value investor.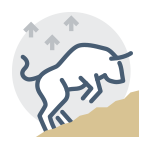 Adam Khoo's Fundamental Analysis strategy for finding good companies that have strong potential to soar in share price.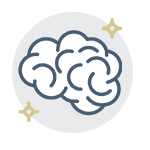 Mindset training to invest with 100% confidence.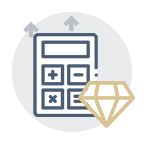 The insider secret to calculating a stock's TRUE WORTH (so you won't fall for lousy ones).
What is Value Momentum Investing™?
Ever heard of Value Investing? It's the strategy used by the famous Warren Buffett.

Here's the thing: Value Investing is great for picking out undervalued companies, but investors often see these cheap stocks getting cheaper after buying in.

Wouldn't it be perfect if you could find fundamentally strong yet undervalued stocks…and enter only at the right time?

Good news for you: Adam Khoo has created and perfected this million-dollar strategy. Whale Investor™ is the FIRST and ONLY online course in the world that combines VALUE and MOMENTUM investing techniques.

In this amazing course, you'll learn to find fundamentally strong companies that have a great potential to soar in share price, AND the exact best time to enter and exit so you secure more profits than the typical value investor.
Join Our Helpful Community of Investors and Enter the Stock Market with Confidence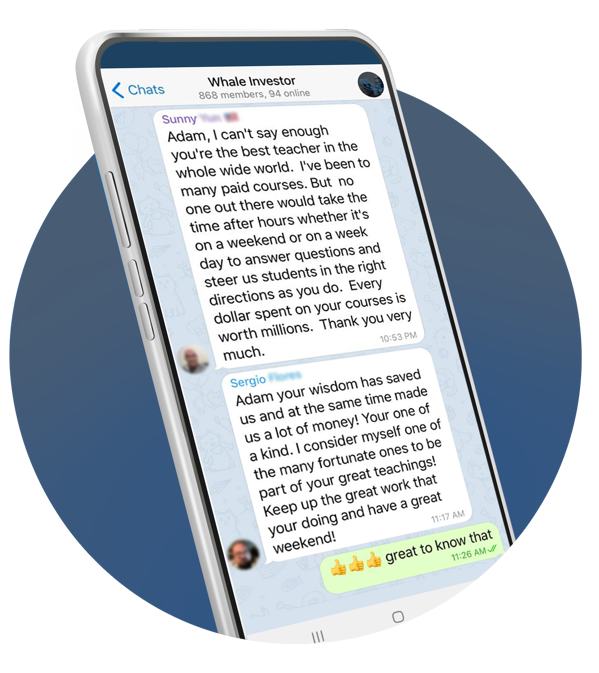 As long-time financial educators, we know that new investors need lots of help, guidance and support to succeed in the stock market.

When you're buying a stock for the first time, you may lack confidence in your judgment and hesitate to take the plunge. When you face an unforeseen event such as a market crash, it may rattle your nerves.
At times like this, it's important to have a dedicated mentor to guide you on the right path and like-minded peers to spur you on.


At Piranha Profits®, we believe financial mastery is a continuous journey and we created the Telegram group to support our students in their day-to-day market encounters.

Enroll in Whale Investor™ and Be Part of Our Exclusive Telegram Group
In this group, our students discuss stock investment ideas and market happenings, ask questions and gain market insights from Adam Khoo.

When a member posts a potential stock pick to look at, other members help to analyse the stock using our 7-Step Value Momentum Investing™ Strategy to determine if it is a worthy investment.

Join us today and become a confident investor with our supportive family! 😊
Invest Just Once and Benefit for a Lifetime wits® Trader Support System
Lifetime Access
Watch anywhere, anytime, as many times as you want!
Access to Private Telegram Discussion Group (Worth USD 1,200)
Discuss trade setups daily with like-minded forex traders!
Proprietary Trading Tools (Worth USD 300)— Lifetime Access, No Hidden Fees

7 Complete Lessons, 12+ Hours of HD Video Content

Downloadable Course Notes


Dedicated Email Support
Read the Rave Reviews from Our Whale Investor™ Course Students

Enroll in the investing course that brings you real returns. See the results our students achieved after attending the Value Momentum Investing™ course by Adam Khoo.
"Achieved Index-Beating Investment Returns"
See how these investors outperformed the S&P 500 by picking winning stocks with Adam Khoo's VMI strategy!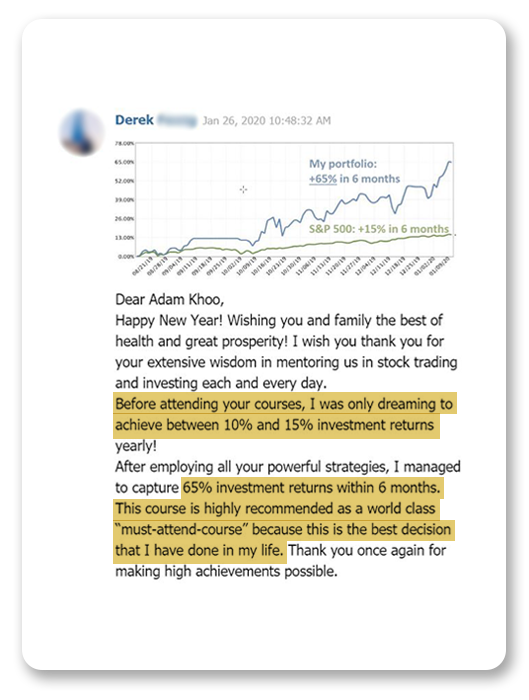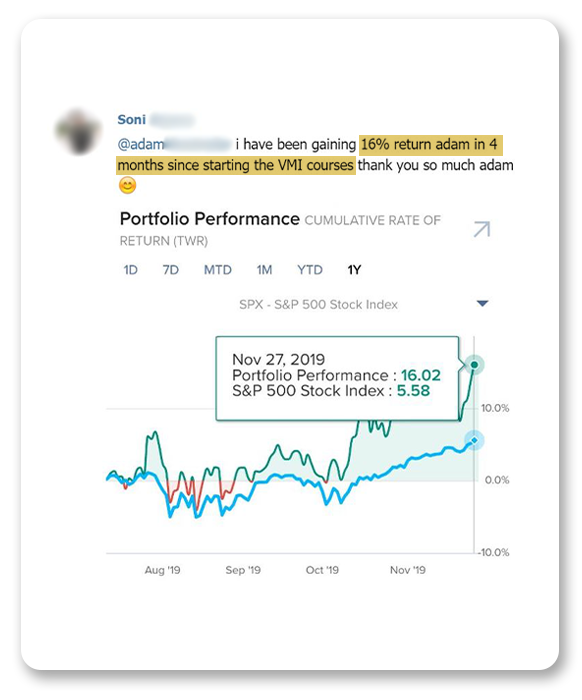 "From Clueless and Losing Money to Getting Strong Positive Returns"
These investors turned their portfolio losses into solid gains after learning Adam Khoo's VMI strategy. If they can do it, so can you!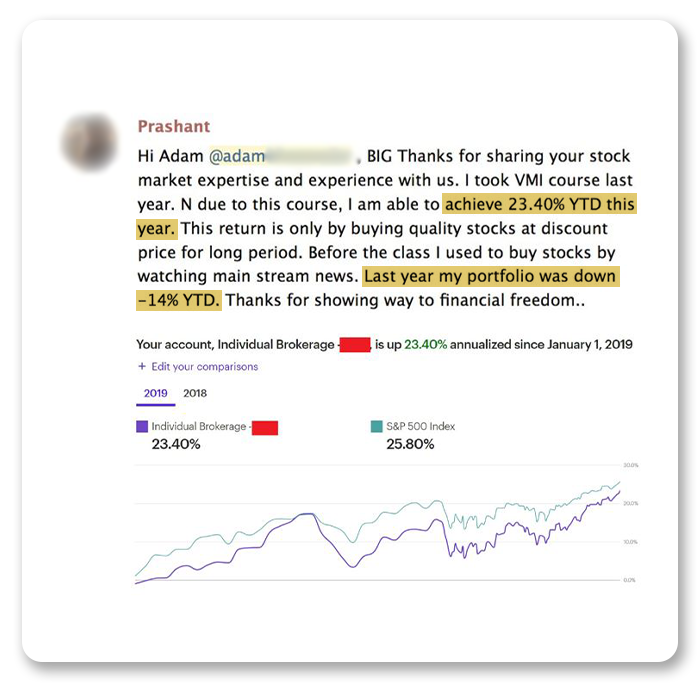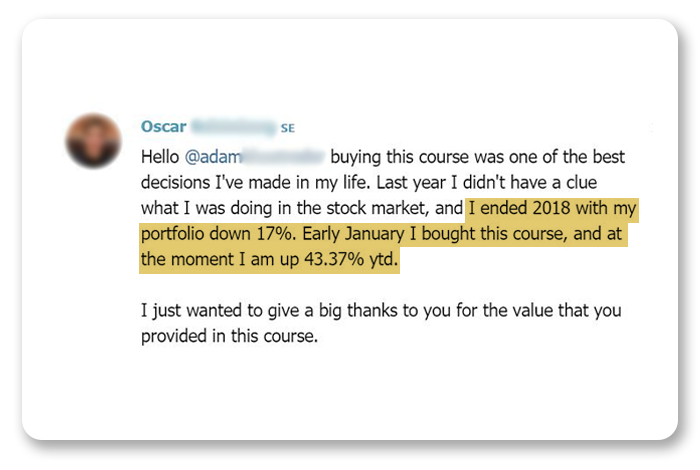 "Achieved Profitable Results Within Months After the Course"
These investors earned back their course fee by practising and applying
what they learnt in the course.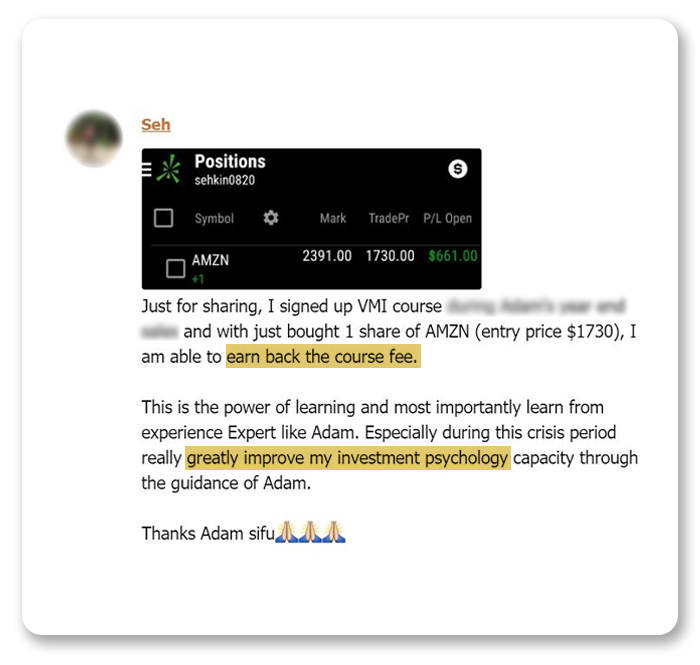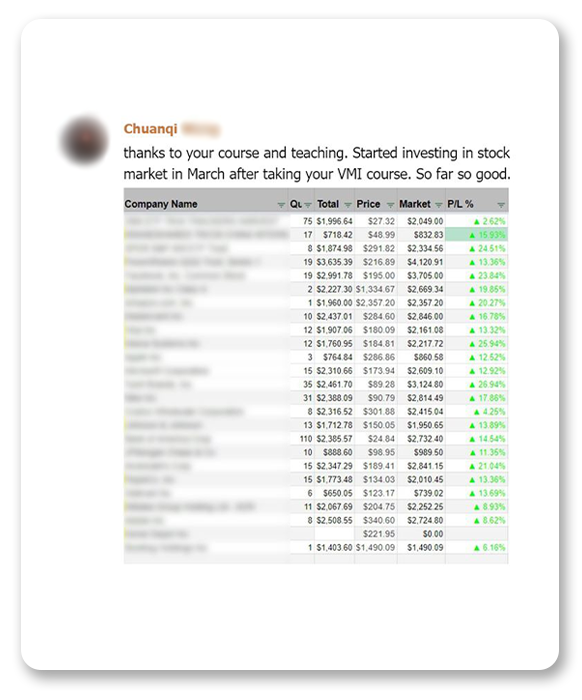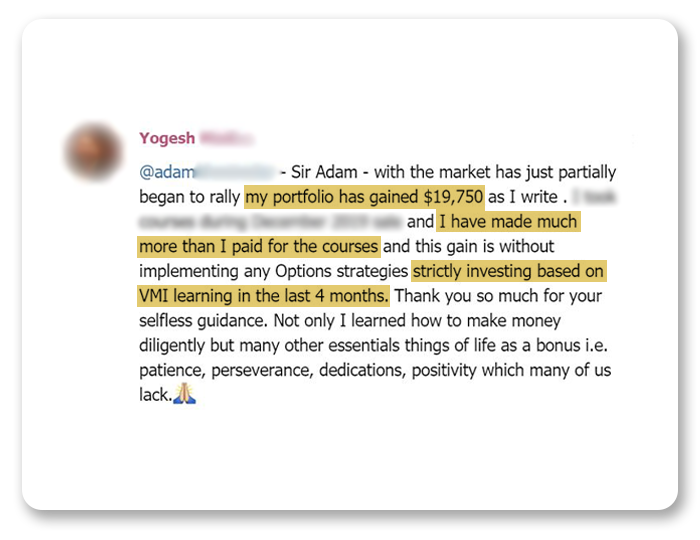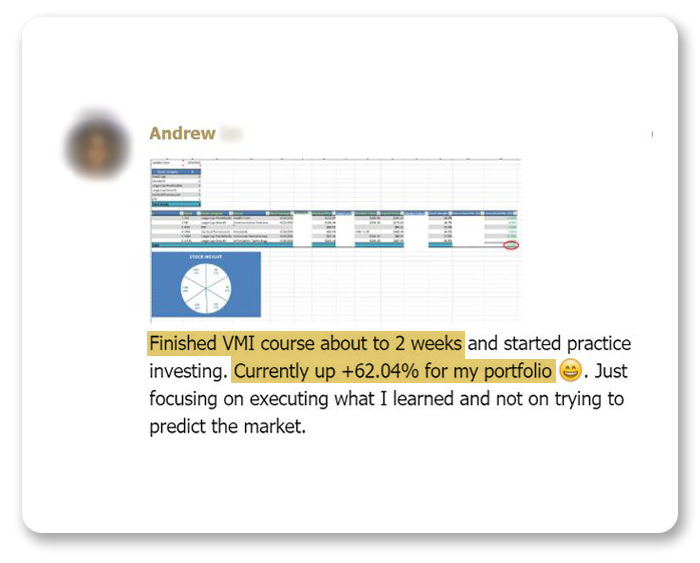 "I Wish I Joined Your Course Earlier. It Has Sharpened My Stock-Picking Skills and Massively Improved My Investing Results"
Don't waste your hard-earned money on strategies that don't work. Whether you're a newbie or experienced investor, this powerful course will elevate your investing skills and boost your portfolio returns.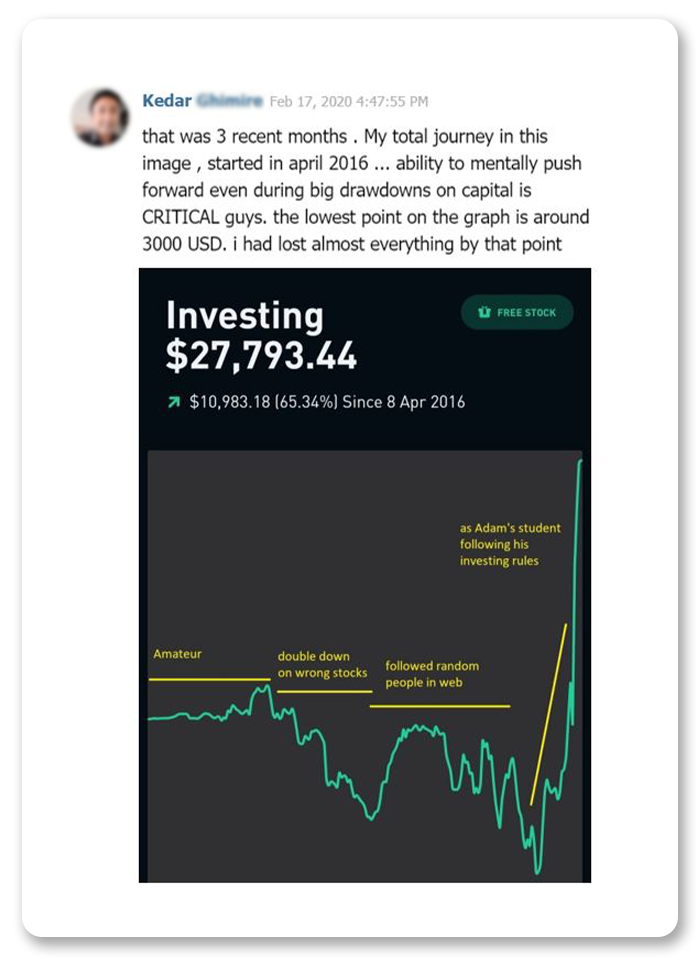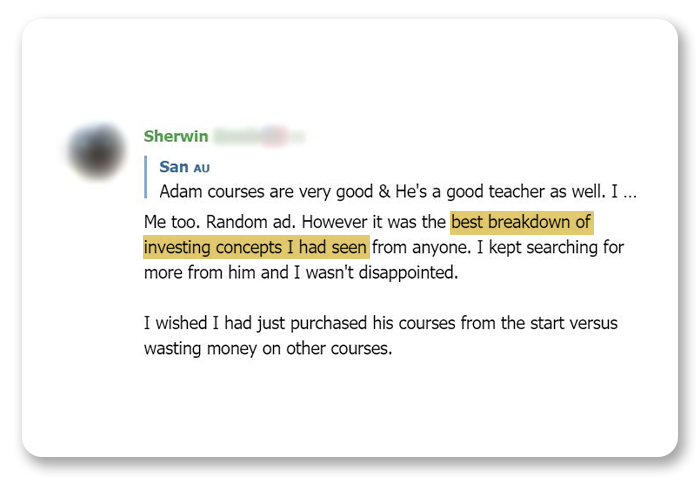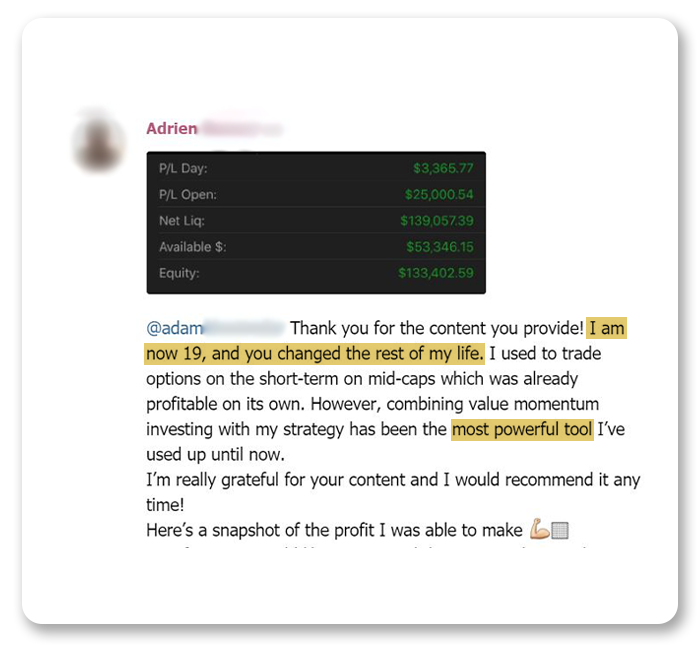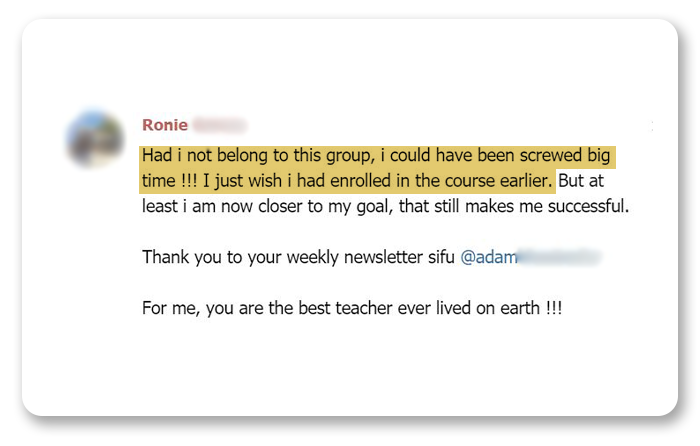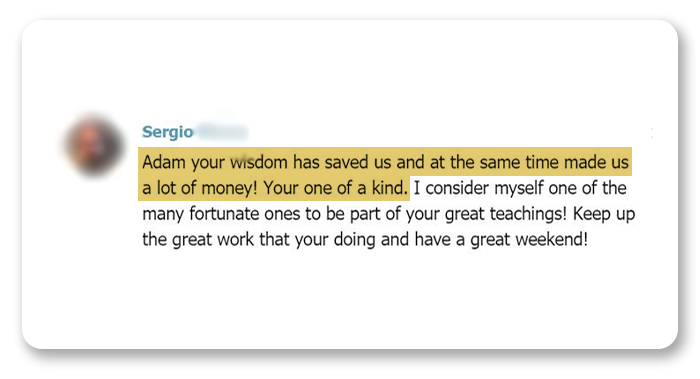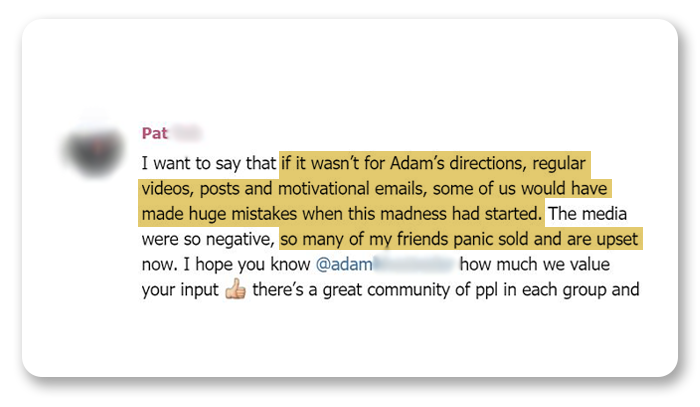 Your Instructor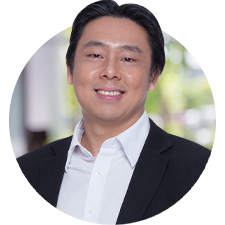 Adam Khoo is an award-winning Singaporean entrepreneur, best-selling author, and professional investor & trader. A self-made millionaire by the age of 26, he owns and runs multiple businesses with a combined annual turnover of $30 million. His business interests include corporate and financial educational seminars, learning centres and youth education. He is the co-founder of Adam Khoo Learning Technologies Group Pte. Ltd (AKLTG), one of Asia's largest training & education companies. In 2020, AKLTG was ranked among the top 29 Best SMEs in Singapore in the Prestigious Enterprise 50 Awards. He is also the founder and principal trainer of Piranhaprofits.com, one of the world's largest online financial training schools.
Adam holds an honours degree in business administration from the National University of Singapore (NUS). As an undergraduate, he was ranked among the top 1% of academic achievers and was a pioneer in the university's scholars programme. He is also a licensed Hypnotherapist and Master Practitioner and Trainer of Neuro-Linguistic Programming (NLP).In 2008, He was conferred the NUS Business School Eminent Business Alumni Award and NUS Outstanding Young Alumni Award 2011 for his exceptional entrepreneurial achievements. In 2008, Adam was also ranked among the "Top 25 Richest Singaporeans Under 40" by The Executive magazine.
Since 2002, Adam has touched the lives of over 5 million people in 124 countries through his live seminars, books and online training. As a renowned financial educator, Adam won the Most Preferred Investment Speaker award in 2016 and 2017, voted by thousands of retail investors at the ShareInvestor Awards. He also led his company to achieve ShareInvestor's Most Preferred Financial Educator award 5 times in 2013, 2014, 2016, 2017 and 2018. Adam is one of the most-watched financial mentors on YouTube with his videos clocking over 35 million views and close to 800,000 subscribers.
Adam has authored over 16 best-selling books spanning the topics of academic mastery, personal development, parenting, finance and entrepreneurship. His titles have sold over a million copies worldwide and been translated into 12 languages. His books include " I Am Gifted, So Are You", "Secrets of Self-Made Millionaires", " Profit from the Panic", " Master Your Mind, Design Your Destiny", " Winning the Game of Life" and " Winning the Game of Stocks".
His success story and achievements are regularly featured in regional media like The Straits Times, The Business Times, Today, Lianhe Zaobao, Berita Harian, Channel NewsAsia, Channel 5, NewsRadio 93.8, The Hindu, Malaysia Sun, The Star and on Vietnamese and Brazilian news. A life enthusiast with an unceasing passion for helping others, he believes that every person deserves to succeed in life. Today, he continues to inspire hundreds of thousands of people around the world through his books, videos and live seminars.
Course Curriculum
Welcome To Whale Investor
Available in days
days after you enroll
Frequently Asked Questions
I'm totally new to investing. Is this course suitable for me?
Yes! Adam is known for making complicated concepts simple to understand. In this course, he starts from the very basics like "What is a stock?" before moving to his advanced investing strategy. What's more, with our lifetime access, you can always re-watch the videos as many times as you need.
Which markets do your stock investing strategy work well in?
While Adam mainly uses U.S. stock market examples in the course, the VMI™ strategy is universally applicable to all stock markets such as the Hong Kong, India and Singapore stock markets. After all, the concept behind selecting strong companies is the same, no matter what country you're in.
What's the difference between the Profit Snapper™ stock trading course and this?
While both courses focus on the stock market, Profit Snapper™ teaches intraday and swing trading where your trading timeframe is shorter (within days or weeks), and uses a pure technical method. Whale Investor™ teaches the VMI™ strategy, which combines fundamental analysis (how to pick good companies) with technicals (how to enter and exit at the best time), to help you build sizeable annual profits.
Will there be a Level 2 course after this?
No, Whale Investor™ is a complete course on its own. With 11 comprehensive video lessons, it's fully worth your money.
Is the strategy taught in this course enough to help me start profiting?
Absolutely! We've taught the VMI™ strategy for over a decade and thousands of students have benefited from it.
Is this course conducted by Adam Khoo?
Yes, 100% of it! In fact, this entire course and strategy was created by Adam and you won't find a similar course anywhere else 😉
Can I get any further discount?
The course fee you see on this page is already heavily discounted to make the course affordable for all investors across the world. Once you enrol for our course, you gain lifetime access where you can re-watch the videos as many times as you like at no additional fee. What's more, you can use our trademark investing tools (worth USD 400) anytime with no subscription fee or hidden costs. This is truly a value-for-money deal you don't want to miss!
Can I pay in instalments?
We apologise that we do not offer an instalment plan now.
Disclaimer
Nothing in the Site and/or Service is to be construed as a solicitation or offer to sell capital markets products or financial advisory services, and is not to be construed as a source for any kind of professional advice (including but not limited to personal financial or investment advice). No consideration is made to your personal financial circumstances. You should always seek the advice of an appropriately qualified professional before making any financial or investment decision. Past performance is not necessarily indicative of future results. Investment involves a potentially high level of risk, and may not be suitable for all persons. You may potentially lose some or all of your initial investment, or may even lose more than your initial investment. You agree that you are responsible for using your own judgment when making any investment, including but not limited to making yourself aware of and assessing all the risks associated with any investment as well as seeking advice from an independent financial or investment advisor.